the VG5000µ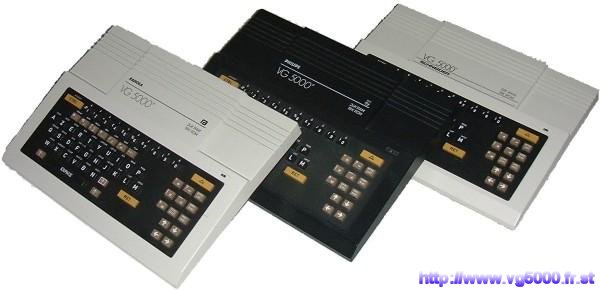 English version of the site

---

As you will see, my english is not very good... So, I'll be very happy if you could correct my numerous errors, and send them to:
The Philips VG 5000µ appeared in 1984.
It was designed and produced in France in "Le Mans" by RTC "Radiotechnique" within Philips brandname. It was also produced within Radiola and Schneider brandnames.
The production ended in 1986 with approximately 300 000 - 400 000 units produced (to be confirmed).
It is not MSX compatible but some hardware parts were VG8000 compatible (PSU connector, video, microprocessor, tape interface, VU0031 cartdridges).
---
A bit of history: the company where the VG5000µ was built.
The factory based in "Le Mans" (France) was built in 1960 by Schneider Co. (TV sets, radios, tape recorders, LP players). There were 117 employees at these times. During the 1960s and 70s, the factory grew and changed its name to Celmans in 1971. Then, it produced a wider range of products -- video games, VCRs, Canal+ decoders -- and Celmans became Radiotechnique Portenseigne.
In 1990, Philips France acquired Radiotechnique and the Philips phone division moved to "Le Mans", which belonged to PCC.
Nowadays, Le Mans factory designs and produces Philips mobile and wireless phones. The factory has 2,400 employees -- 500 engineers/technicians for the research department.

                                               BBBRB#(                                                                                                
                                             e#RBRBBR@BBBR%                                                                                           
                                           (###BRQK#RB@RBBBRBBK7/                                                                                     
                                          R####BRK##RRK##RBBRRR@BBBR#@RBB#%                                                                           
                                       ^##RR##R#RR###RB####RRK###RR#Q##BBBB@B@BBRs/^                                                                  
                                      RBBBBBR###R####RR##K#RRQ#Q#RRQQQ#B#QK#RBBBBB@BB@Kt^                                                             
                                    OBRBRRRRRRBRRR###RRK##RR##Q#RRKQQ#RRKQQ#R#S#K#R@BBBR@B@B6^                                                        
                                  GR#RBRRRRRRRRRRRRRRBRRR#Q#B##QQ#R#QS#RRKQS#RRKQG#R#QQK#RRRBRBBBBBS(                                                 
                              ~^/R#RRRRRRRRRRRRRRRRRRRRRRB@RR#R#RRRQQQRR#QQSRR#SQQRRKSGSRR#QQKRRRBRRBR@B#%                                            
                             G#R##R#RRRRRRRRRRRRRRRRRRRRBBRRRR#/(6##R#RRKQS#R#QeQ#@KQSS#R#QO6KR#QQQKRBBBB@BBB@Q%                                      
                            ####RR#RRRRRRRRRRRRRRRRRRRBBRRRRR#3C#RsC//RRRRRRRKQS#RRQSS#RRQSSKRRKG7sRRKQKKRBBBBB@@B@B%                                 
                          s###RRRR#RRR##R#####RRRRRRRBRRRRRRtt%KKG#RS7s#R###RRBRRBRRKSG#RRQSOGRR#SSQRR#SOORR#S#QRBB@@@#(                              
                         ####R##R##K###R###RRR##RRRRRR#RRRRRRR737#Rs#73RR#%%#RRRRRBRBRRRR#KOQRR#QGO#B#KSe#RRKQGQRRKB@@@@@B@#t                         
                       ^B#R#RR###R~~(OGQS#K##R####RR#R#RRRRRRRRR#R#R(G%##(76#RRC%KBRRRRRRRR#RR#KSOQR#QSGQRR#QQQ@R#@R@#@BBBBBBB@@R#%                   
                      ~RR#R#R#R##~~~/~%~~~G###K##RRR#R#RRRRRRR#RRRRR#B##R(s%RRRBRR#RGtGRRRRRRRRBRRRBKQ6s#R#QSSRR#@R@#BRRRRRR@@@BR@BB@BRG/             
                     #RRRR#RR####KKSe%~(/%##%QS#R#KK#QKRR#RRRRRRRR###RRRRRRRRRRRRRRRRRRRRRRK76#RRR#R###RRBB#Qe#@@BRRQ#BR#RQKR@#R##RBBBBB@@@@@#O(      
                   ~R#RRR#R###K###KKQQKS6QKQQS@@#7KQR##Q######RRRRRRRRRRRRRRRRRRRRRRRRRRR#RR#RR##C7Q##(eQBRRRB@@R##Q#BR##QSBBR##S#@BRRR#BB@@BR@@QQ(   
                  O######R##KQCKQ####K(~((##QSSQKKQ#@QKeG######K##R#####RRRR#RRRRRRRRRRRRRRRRRRC(~SC#RQ(#RRR@@@R##SKRB##KQRBR##S#@RR##KBBRR#RB@@R##Q  
                 ##R##R####K/^KB@K#%S#7%(G#t(((SQKKQK#QSSB#KOQKRK###SRRRR##RRRR#RRR#RRRRRRRRRRR#Os(CQ6##RRB@@@RBBBBBRRRKS#BR#RQKRBR#KQR@BR##R@@@@BRKO 
               OKR#R#######KeQRKe(OK@R#G((SO%tQ#(((~eReG3QKS#eBR#t3SBR###KKQ#RR#RRRRRRRR#RRRRRRRRRRRRR#RR@@@RBRBRRRBBRRB@BB@BRRS#@R##KKR@RQ@@@@@@@R#Q 
              R#RRRR########(3%tSSK##Q(%QB@QS%CSG%%G#%(((CR#GsS#OKSBR#O3%#R###RK##R##RR#RRRRRRR#RRRRRRRB@@@BRRRRRRRBBBBBBBBBBBBBBBRR#KBBR#@@@@@@@R#Q  
            /R############QSCK@B#O373SeQ##KC(SBB#K(7SG%%CRS(t(7R#GQ##Q#SK@##(C#BK##K#K##RRRRRRRRR####RB@@BRRRRRRRRRRRRRRRBBBBBBBBBBBBB@B#@@B@@@@@RR7  
          ^#############KK#KSGQSKSQB@K6/Q%SSSQ#KSeKB@#QG%(OG%%RQ(t^(Q#(6(GQSK#@R##O7@B########R#R##RRRR#R##RRRRRRRRRRRRRBBBBBBBB@B@@@BB@@@@@@@@@@R    
         ^##R########K##K#K/ (K#SQSQKQGSR@#Q/GC3QSQQQQOQKB#K%6tSe%%SR(((~GR##K##Q#KR@R##tK@####K###RRRR#RRRRRRRRRRRRRRRRRRRBBBBBBBBBBB@@@@@@@@@R#     
        3RR#RR#######K#KKKQSSB@#S/%GtQSeS#eSQ#@#Q3G(GSG#Q#SG/Q@RQQS(QG%tsR########K#K#QKsB@R6#3KR########RRRRRRRRRRRRRRRRRRBBBBBB@BB@@@@@@@@@@RO      
       KR##R########K#QK(%SQSSQKGeRB#Q/O%%QSGQ#S6(Q@@#Ss(sGSQ#BQK/Q#@KQet#KK###########KK##QKsQRR#########QQ#RR#RR#Q#K#RRRRRRBBRBBB@@@@@@@@@@R6       
     /S#RR####KKKKKKK#Kt((O#KK#KQQQKQ#eR@#S//KGKSSQKKe6#R@#KsG~OQGSK#O%6QBRQS%(O############RKK######KR(~~~~6KKR#K#RR#RKRRRRRRRR@@@@@@@@@@@B#         
     eGGGGGQ######K#KKQQeCSQK##KKKKKQQSQSSQQS@RQG(QCQQSSSKO3QQ@#K%s(KQeKB#KKSQ#B#K############R~(CQK###~~/~(t~~/~%####R#RRRRRRR@@@@@@@@@@@@t          
    GGGGGGGGGGGeK######QQQQKKKKKKSQQQG~6KQKQQQKQGG#RQQ/C%6QQS#RSO~QR@##K3GQGQRBK##############((t/sRK(3QQeC~(~/(~CR##RRRRRRRRR@@@@@@@@@@@R            
   OGGGGGGGOOGOOGGGGQ####K#KKQQKQSS##SQs((%(QKKSSSQQQS(KRBO~/GKQSS#BKS^SK@RK#tSK#############QQG3CR#(tt(CR#OSSO77###RRRRRRRRRB@@@@@@@@@@#             
  /RR#GGOOGOGOOOOOOOOOOOOeQ####KKQQQQQQQQ#KSSQQKKKKRKQSQQG7//6KQKKKKKKSe##S6GOKB#K#########6(((tRKSKQS63#K(~/(OR###RRRRRRRRR@@@@@@@@@@B~              
    (##RRRQsOOOOOOOOOOOOOGGOOGSK####KQQQKSQQSS##GSBRQ#QQ6QSGCQKQKKKK#O/(SSQeSRR###K#######Ks%%tSBO(tt(#Q#KGC3s####RRRRRRRRR@@@@@@@@@@R                
      t#RR#RRR#OOOOOOOOGOOOOOOOOGGeK####KKQQQQQQQSQKKK#((~tS#QQKKKKK6/~~s((/(SQQ#########O^7eQQK#7%(tSR#(~/%KK###RRRRRRRRR@@@@@@@@@@B                 
        ^S##RBRRRR##Ks6OOOOOOOOOOOOOGOOGe#####KQQQQQQQ#G%7QKQQQKKKKKKQGt(~/~(/7##KKK####Gt~/%#Rt/(OQQQK%3(tOR###RRRRRRRRR@@@@@@@@@@#                  
             6Q#RBBRRRRR#OsOOOOOOOOOOOOOGOOGGQ####KQQQKQQSQQQQKQQKKKQQQQKSSs(~KK#K#K###KKQSCQ#t((/%K#%(OQQe####RRRRRRRRR@@@@@@@@@@R~                  
                 ~S##R@#RRR#RQ6OOOsOOOOOOOOOGGOOOGQK##KQQQQQQQQQQQQKKKKKKKKQQQQKKKKKKKKK#KKK#QQOC3SK7~/~(#R###RRRRRRRRR@@@@@@@@@B#(                   
                     /eK#R@BRRR#RQOGOOOOOOOOOOOOOOOOOGSK###KQQSQKKQKKKKKKKKKQQQKKKKKKKKKK###(^ (GKKKs%%%e####RRRRRRRRR@@@@@@@@@B#Q                    
                           3Q#RRBR##RRRQ6ssOsOOOsOOOOOOOOOOGe####KQGSKQKKQKQKKQKKKKKKKK##QKG%%(eRQ(~/tGQ####RRRRRRRRB@@@@@@@@@##Q                     
                               ~G##R@RR#R#RRO6OsOsssOOOOOOOOOOOOGQ##K#KeGQKQQQQQKKKK#####O(teQSQ#C7((6RK###RRRRRRRRB@@@@@@@@R#QS                      
                                   ^6K#RBBRRR#R#G%s666sOOsOsOOOOOsOOGe#####KSSKQQKKKK###G(/~(GRQOQQG6Q####RRRRRRRRR@@@@@@@@BRQG                       
                                        s###BRR####RQ73s666OsssOOOOOOOOOOGS###K#QSKQKKKKQC%%OR#(/ (C#####RRRRRRRRR@@@@@@@@B#QC                        
                                             /eQRR@BR#R###G/CCsCssssOOOsOOOOGOOGQ####KQQQQQKQKKC%%OR####RRRRRRRRB@@@@@@@@R#S                          
                                                  O##RR@R####RKttO6ss6ssOOOOOOOOOGOGSK####KQQKKKKQK####RRRRRRRRB@@@@@@@@##Q                           
                                                      3Q##BBBRR#R#RC(6C666OOOOOOOOOGGGOGSK#######K####RRRRRRRRB@@@@@@@BRKG                            
                                                          (Q#RRBBR##R#Re(%6sssOOOOGOOOOOOGGGGQ######RRRRRRRRRB@@@@@@@BRQ6                             
                                                                OK##B@BRRR##RG(6OsOOOOOGGGGGOGGGGGSQ#R##RRR#@@@@@@@@R#K                               
                                                                    6#K#RBBR###R#Kt%OOOOOOOOOGGGGGGeSGeQ#RR@@@@@@@@R##                                
                                                                        3Q##RBBRR##R#RC%OOOOOOOOGGGGGGSSSQR@@@@@@@#KS                                 
                                                                              GQ#RRR@RR#R#R#C3GOGOGOGGGeS#@@@@@@@RK~                                  
                                                                                 ^GQ##RB@RR##RRRGCOOOGGeQ@@@@@@R#Q                                    
                                                                                       ~G#RB@BR#R#RRSCGGR@@@@@R#S                                     
                                                                                           (SR#B@BR###R@@@@@@R#e                                      
                                                                                               ^/tCSQ#RBB@B#e%                                        
                                                                                                      /(%6G(